What an absolutely beautiful day it was! Pam and I were the first to arrive and since it was so nice outside we decided to have our group meeting today on the patio. It was just so pretty today, however sitting in the shade was a bit breezy and halfway through most of us were complaining that we were cold...LOL
However, we braved the wind and had a great time sharing, laughing, crocheting and knitting away!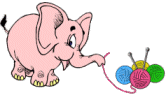 We had two new visitor's today. Becky and her sister Debbie. Becky brought a crocheted granny square blanket she was starting and her sister Debbie brought an afghan that needed medical attention so we sutchered up the edge that was ailing and it was good as new.
ladies!
Joyce brought her completed "Martha Stewart Poncho" but I forgot to get a photo of it. It was just divine. Rose showed us her "Baby Surprise Jacket" which was almost completed except for the seaming of the shoulders. That is such a cool pattern! I was knitting on my Curlicue Coverlet and Pam was crocheting on her second "Tiramisu Baby Blanket". Rose was knitting the back of her "Superman Sweater" and Pat had a knitting project that she was just starting. Joyce was crocheting a scarf to go with her poncho.
Sweet Rose had brought me a birthday gift all wrapped in blue!
What a nice surprise! She made me a knitting row keeper bracelet and she also made me a Yarn Bell! I had heard of yarn bowls but not yarn bells. This was such a nice and thoughtful gift!
Thank you Rose!
Here is a little photo vignette of our meeting...enjoy!